Mini-Hydraulic Power Plant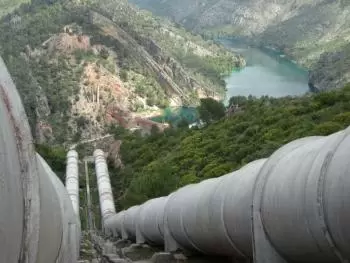 A mini-hydraulic power plant is a power plant that uses hydropower for the production of electricity. They are characterized by the fact of having a reduced installed power. Its small size implies the use of structures of much smaller size than a normal dam. These mini-hydraulic plants are safer, thanks to the smaller volume of water in the basin, and which also have a lower environmental impact and landscape.
There is no globally accepted limit for which a hydroelectric plant is defined as mini-hydraulic. According to the ESHA (European Association of Small Hydroelectric Power Plants), this limit is considered equal to 10 MW of installed power.
The mini-hydraulic plant has some peculiarities compared to large hydroelectric plants, as well as the advantages of using renewable energy.
Limited investments: the construction of a system of this type generally takes place in running waters that do not require the construction of particularly expensive works (such as large dams). This allows a quick return on investment.
It allows an improvement of the hydrogeological conditions of the territory;
Contributes to the reduction of the greenhouse effect and, therefore, benefits from green certificates for the production of energy from renewable sources
Like any hydroelectric plant, the construction of a small hydroelectric plant naturally requires an appropriate feasibility study.
Principle of operation of a mini-hydraulic power plant
The operating principle of a small hydroelectric power station is to take advantage of hydropower, that is, to transform the potential energy of a cascade into mechanical energy through a turbine, and then into electrical energy through a generator. The installed power of the plant is a function of the flow of the turbinado water and the height of the fall.
Hydraulic power plant with vortices
This type of hydropower plant developed in Austria, with immense potential and that requires little technical, does not need a big slope to work. A water supply channel of a river to a circular rotation basin of a certain diameter with a paddle rotor placed in the center of the basin, allows the production of 80 to 130 MWh per year, depending on the amount of water and the depth of the basin. The rotor works by the force of current and gravity, driving a generator that will produce electricity.
A hydraulic vortex hydropower plant can operate from a drop height of 0.7 meters and an average water quantity of 1000 liters per second. This technology is practically safe for fish because they can pass safely through the small hydroelectric power station both upstream and downstream.
Last review: March 26, 2018