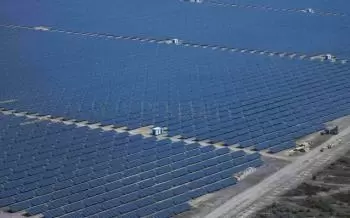 In order to reduce the emission of tons of CO 2  per year, many countries are betting on renewable energy. One way to do this is by building huge solar plants connected to the grid. 
The installation of large photovoltaic plants in the world continues to increase both in number and in installed power. As of today, there is already a facility in India supplying 1000MW. However, even larger solar photovoltaic plants are still being built today.
In this sense, the countries that lead the production of photovoltaic solar energy are China, the United States and India.
Of the main photovoltaic solar installations in the world we highlight:
Kurnool Ultra Mega Solar Park.  1.000 Mw.  India
Kurnool Ultra Mega Solar photovoltaic park is located in India. Today it is the largest photovoltaic plant in the world, surpassing the 850 MW installed capacity of the Longyangxia Solar Park in China.
The park is located in Panyam Mandal, in Kurnool district, Andhra Pradesh, India. It occupies an area of ​​2400 hectares.
The photovoltaic energy park is made up of more than 4 million solar panels. Each of these photovoltaic panels has an installed capacity of 315 watts. In this way, the photovoltaic plant manages to generate around 8 GWh per day.
Longyangxia Hydro- Solar PV Station.  850 MW. China
Longyangxia Solar Plant, located in Qinghai Province, China. It uses mixed hydro-solar technology. In this way, it is the largest photovoltaic solar plant in the world using this technology. This power plant occupies a total of 9.16 square kilometers.
The hydroelectric plant has a capacity of 1,280 MW of power. Throughout the entire hydro-solar electrical installation it is expected to supply 483 GWh per year to the Chinese electricity grid.
Kamuthi Photovoltaic Plant. 648 MW. India
The Kamuthi Solar Power Project solar photovoltaic plant is located in India. Specifically, it is located in Kamuthi, 90 km from Madurai, in the state of Tamil Nadu.
The facility is capable of generating 648 MW. This large electrical production capacity makes it the largest photovoltaic solar power plant in India.
The photovoltaic panels used by this solar plant cover an area of ​​514 hectares.
Solar Star Solar Farm I and II. 597 MW. U.S
This facility is a photovoltaic solar power plant located in the United States, near Rosamond in the state of California.
This plant has 1.7 million photovoltaic panels occupying an area of ​​nearly 13 square kilometers.
One of the remarkable characteristics of this solar installation, compared to other photovoltaic plants of this size, is that it uses a smaller number of photovoltaic panels. The photovoltaic panels used are of higher efficiency and are mounted on single axis trackers to optimize the reception of solar radiation at all times of the day. Another notable feature is that other major plants in the United States use a larger number of cadmium telluride photovoltaic modules rather than conventional crystalline silicon photovoltaic technology.
Copper Mountain Solar Photovoltaic Solar Plant. 550 MW. United States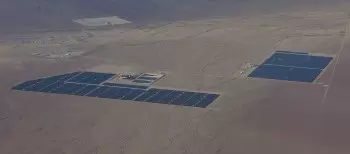 The Copper Mountain Solar photovoltaic solar installation is made up of 4 plants. It is located in the state of Nevada, in the USA. With the sum of all the plants, this solar plant has the capacity to generate 552 MW of electrical power through the use of solar energy.
The company that owns the solar plant is Sempra Generation.
Copper Mountain Solar's annual photovoltaic energy production is 1000 GWh.
Construction Phases of the Copper Mountain Solar Photovoltaic Plant
Copper Mountain Solar's photovoltaic solar energy installation was built in 4 different phases.
Sempra Generation began construction of the solar plant in January 2010 through December 1, 2010.
At its peak of construction, more than 350 workers were installing 775,000 photovoltaic panels on the 180 ha site.
Expansion of the facility by more than 200 MW was approved in 2010. On August 4, 2011, Sempra announced a plan to expand the facility by 92 MW of electrical power to connect in January 2013 and another 58 MW to be added for 2015.
Copper Mountain Solar 3 is the third phase of Copper Mountain Solar's solar complex. Construction of the 250 MW solar project began in 2013 and was completed in early 2015. With this stage, the solar plant is capable of generating enough electricity to power some 80,000 homes.
Copper Mountain Solar 4 is the fourth phase of the Copper Mountain Solar photovoltaic complex. Construction of the 94 MW expansion project was scheduled to begin in 2015, creating around 350 construction jobs at its peak, and was completed by the end of 2016.