Photovoltaic solar energy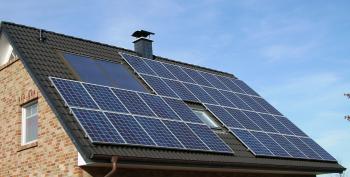 Photovoltaic solar energy consists of the direct transformation of solar radiation into electrical energy.
This transformation into electrical energy is achieved by taking advantage of the properties of the semiconductor materials through the photovoltaic cells. The basic material for the manufacture of photovoltaic panels is usually silicon. When the light of the Sun (photons) hits one of the faces of the solar cell it generates an electric current. This generated electricity can be used as an energy source.
Making photovoltaic cells is an expensive process, both economically and in time. The silicon with which the photovoltaic cells are manufactured is a very abundant material on Earth. However, silicon processing is laborious and complicated. By means of very complicated processes silicon ingots are made. Subsequently, these wafers of silicon will cut the wafers (photovoltaic cells).
Another source of silicon is the recycling of the electronics industry.
Other higher yielding materials are currently being prepared.
It is important that all the cells that make up a photovoltaic solar panel have the same characteristics. After the manufacture of the photovoltaic cells, a classification and selection process must be followed.
Applications of photovoltaic solar energy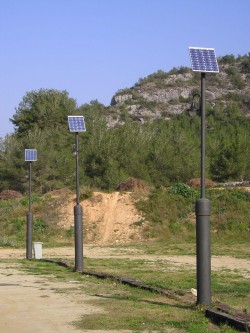 The main application of a photovoltaic solar energy installation is the production of electric energy from solar radiation.
Energy production can be large-scale for general or small-scale consumption for consumption in small homes, mountain refuges or isolated sites.
Mainly two types of photovoltaic installations differ:
Network-connected photovoltaic installations, where the energy produced is used in full for sale to the distribution grid.

Photovoltaic installations isolated from mains, used for self-consumption, be it an insulated dwelling, a telecommunication repeater station, water pumping for irrigation, etc.
Within the applications of photovoltaic energy not connected to the grid we find in many areas of daily life. Photovoltaic energy is used in small devices such as calculators, such as for public lighting in certain areas and even have developed cars and aircraft that operate exclusively by taking advantage of solar radiation as a source of energy.
References
Last review: March 21, 2017