The constant price increases in electricity rates are reflected in the monthly bills of our home and therefore, more and more people are looking for alternatives to electricity and natural gas in order to save a few euros at the end of the month . One of these alternatives that has been implemented for a few years in Spain is self-consumption from  solar panels .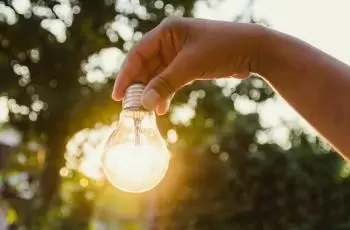 With the installation of solar panels and the use of solar radiation, it is possible to generate electricity and / or heat in the home in a clean and renewable way while saving electricity and natural gas bills. But how does solar energy work? In this article you will find all the answers to the doubts you have about solar energy , its contracting, operation and impact on electricity bills.
Solar Energy: How It Works and How to Hire It
The first step to understand how to save on our electricity bills simply with the sun's radiation is to understand how solar energy works in Spain. To begin with, there are different types of solar panelsaccording to the type of energy they generate with the sun's radiation: electric, thermal or a combination of both. In this case we will focus on the most common  photovoltaic solar panels , which transform light energy into electrical energy.
In self-consumption from this type of solar panels we find two situations :
Disconnected self-consumption : this is the case of a house that uses photovoltaic solar panels as the sole source of electricity. In this way, the house has total autonomy without having to be connected to the Electricity Network of Spain (REE) to have electric service. This usually occurs in homes located in an area exposed to many hours of sunshine throughout the year.

Self-consumption connected : this type of self-consumption occurs in homes with photovoltaic solar panels but which in turn are connected to the REE to have a security when it needs additional electricity. In this case it is advisable to hire a light tariff with time discrimination .
Impact on Electricity Bills
The installation of photovoltaic solar panels has a high initial cost . So, to what extent are they profitable? Photovoltaic solar panels are profitable in the long term . However, the initial investment will be recovered sooner or later depending on the number of panels installed, if at the same time it is connected or not to the REE and ultimately, the electricity consumption that is made.
If you opt for the self-consumption connected, you will see that your electric receipts decrease month by month, making less use of the electric power coming from the Electricity Network of Spain and more of the energy that you generate thanks to the solar panels.
Do not hesitate and change to solar power: give the s ustainability the environment , will reduce your energy consumption, you will own your own electricity and save on your bills you get light.